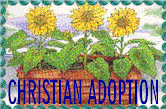 ---
TABITHA
Written by Tabitha.
Names have been changed to protect privacy.
---
My Mother's hands are not like mine
But both can wave or climb a vine
Or make a castle out of sand
Or hold onto my Daddy's hand.
My Mother's eyes are not like mine
But both can see the bright sunshine
Our eyes can look way up and down
Tho' hers are blue and mine are brown.
My Mother's hair is not like mine
But both of us look very fine
With braids and bows and Sunday hats
We even put them on the cat!
My Mother's heart is just like mine
We love and care and learn each line
Of God's own word to Mom, Dad and me
Our insides are all that He can see.
Because God doesn't care about our skin
Or eyes, or hair, or even our chins
He loves what's inside of me
So I'm the best girl I can be.
God loves me so much, you see
That He gave me two Mommies--each are perfect just for me.
So every night I pray to God above
For the Mom who gave me life and for the Mom who gives me love.
(Mick & Tabitha were blessed with twins through their Christian Adoption!)
---
For more information please read For Birthmothers.*
We encourage you to follow God's loving guidance.
---
Return to: Birthparents Index

Go to: Web Site Index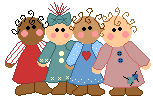 Return to: Home Index
---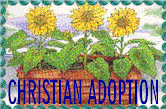 A Christian ministry helping birth parents & Christian couples for over 12 years!
1.800.277.7006 620.251.4405 adoption@christianadoption.com
Deborah S. Hill P.O. Box 243 Coffeyville, KS 67337
---
We are not an adoption agency, we are not registered, we are not licensed, and we are not professional counselors.
Click here to get an adoption or IVF loan!

© All rights reserved CHRISTIAN ADOPTION