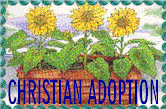 ---
LYNNE
Written by Lynne; a letter to a birthmother & her mother.
Names have been changed to protect privacy.
---
Dear Cathy and Carla,
I'm writing to you at the request of a close friend. I do not want to offend you or cause you any pain during a very emotional time in your lives.
My name is Lynne and I'm an adoptive Mommy. I'm thrilled to be able to share some of the miracles the Lord has performed in our lives. We are born again believers, who met in our early 30's. Due to female difficulties complicated by diabetes, I knew that the only way we'd have a biological child was through a miracle of God. From the beginning of our marriage, we knew we'd pursue adoption.
I've had some family experience with adoption. My mother was adopted into a loving Christian family. She always knew she was adopted and specifically chosen to become their little girl. She felt good about herself and knew that God had placed her with her family for a special reason. My sister-in-law was adopted into a family who later came to know the Lord. Both of their adoptions were relatively easy and positive compared to the heart wrenching stories we hear in the media. We know that my mom's birthmom was a teen saying goodbye to her soldier boyfriend during WWII; my sister-in-law's birthmother was a very young teen.
When we began researching adoption, we learned how much the adoption process has changed. We understood that our adoption experience would be different. The biggest change in American adoptions has been the swing towards openness. Mainly because single parenthood is more tolerated and birthmoms are choosing adoption as a gift for their child's future. Now, birthmothers can decide what's the best future they can give their baby. Additionally, birthmoms are encouraged to select a family for their child, rather than being 'assigned' an adoptive couple.
Our birthmom was 17, a junior in high school, living in Europe when she discovered her pregnancy. Her family and the birth father's family had a lot to consider. She had support to keep her baby from her older sister, the birth father's family, Christian couples at her church, European adoption agencies, and received financial offers to sell her child. Abortion was a lurking option offered too. Our birthmother repented, confessed, and prayed without ceasing for direction about her pregnancy. With all her heart, she wanted 3 things for her baby.
1. She wanted her baby to be raised in a loving Christian home where Christ would be honored, taught and celebrated.
2. She wanted her baby to grow up with a Daddy (she was raised in a single parent home.)
3. She wanted her baby to know how much she loved, prayed for, and planned for her child's future, to the best of her ability.
During this same time, we were praying about our adoption options. I had some specific prayers for our adoption also.
1. I wanted our adoption to clearly be a God deal.
2. I wanted our adoption to be a witness to others about God's greatness.
3. I wanted to be a blessing to a young Christian girl and her family; to bring them comfort, relief, and reassurance. (I knew that somewhere there was a teenage believer facing challenging choices.)
God in His ultimate wisdom and loving kindness answered all of our prayers. He brought us together through a very unique ministry, Christian Adoption. Through God's direction, we found each other across a very big ocean!
I'd "stumbled" onto Christian Adoption during my adoption research on the Internet. Christian Adoption offers adoption information, Christian Adoption perspectives, adoption support, and fervent prayer. Their commitment to daily "stand in the gap" for everyone involved in the adoption process is their greatest strength.
Christian Adoption believes, as we do, that God is the author of adoption. As the author of adoption, we believe that God blesses and honors those in the adoption process.
Our birthmom's mother's friend found Christian Adoption on the Internet and shared it with them. They contacted the administrator, Deborah, and then prayed for a month. Then they began contacting Christian families listed on Christian Adoption. We corresponded by email for over a month, before our birthmother narrowed her decision to us and another listed couple.
During that time, I supported, blessed and encouraged our future birthmother, as much as possible. It was my heart to allow God to work within me to help a sister in Christ, not to convince her to choose us as the adoptive couple for her baby.
It was an awesome and overwhelming moment to hear her say, "I'm going to entrust my child to you. I trust you to nurture, parent, and share Jesus with my baby. Please give my child a bright hope and a future."
Wow! Daily, I pray for God to enable us to fulfill our birthmother's trust.
God performed miracle after miracle in the next few months. What a witness as to how He transported our birthmom back to the United States for the birth! It was God's hand of blessing and direction every step of the way.
Sarah has been a joy for all of us, and our goal is to keep Christ at the center of our relationship and to do what's best for her future. Sarah won't grow up with secrets or whispers. She'll always know about her birth family's love for her.
There's no way to express what Sarah means to us and the great joy she's brought into our lives. Our birthmom gave us her greatest gift. We will spend our lifetime thanking her and glorifying God!
That's just a little bit about our Christian Adoption.
We're praying for His peace for you.
In Him,
Lynne
(David & Lynne have been blessed with 2 daughters through the prayer ministry of Christian Adoption!)
---
For more information please read Birth Grandmother Gayle.*
We encourage you to follow God's loving guidance.
---
Return to: Birthparents Index

Go to: Web Site Index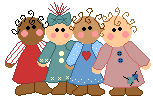 Return to: Home Index
---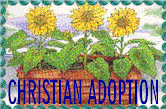 A Christian ministry helping birth parents & Christian couples for over 12 years!
1.800.277.7006 620.251.4405 adoption@christianadoption.com
Deborah S. Hill P.O. Box 243 Coffeyville, KS 67337
---
We are not an adoption agency, we are not registered, we are not licensed, and we are not professional counselors.
Click here to get an adoption or IVF loan!

© All rights reserved CHRISTIAN ADOPTION