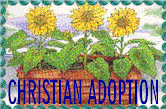 ---
KRISSY-2
Written by Krissy.
Names have been changed to protect privacy.
---
(Krissy shares her thoughts with her chosen Christian Adoption couple.)
Dear Tom & Heather,
Hello and thank you! I thank God for His guidance and I have His peace. I know that adoption was the best choice for my baby. I thank God for sending you to me. You were the first couple I read about and picked! I feel in my heart that you'll do your best in raising your new son! I'll miss having him around because he's a part of me. Nothing can change my feelings towards him. But, I love him so much that I want him to grow up with what I can't give--a stable 2-parent home. Thank you for taking that responsibility. I know that you don't have to keep in touch with me, but I'd love some pictures of him once in awhile. I know you have God's love in your hearts, I felt it on the day we met. I don't have to worry about him because I felt God's love coming from you! Thank you for the cookies and photo album! I really appreciate them!
I love you and praise God for you!
In His love and mine,
Krissy
(Tom & Heather have been blessed with 2 children through Christian Adoption!)
---
For more information please read Birth Great Grandmother Penny.*
We encourage you to follow God's loving guidance.
---
Return to: Birthparents Index

Go to: Web Site Index
A Christian ministry helping birth parents & Christian couples for over 12 years!
1.800.277.7006 620.251.4405 adoption@christianadoption.com
Deborah S. Hill P.O. Box 243 Coffeyville, KS 67337
---
We are not an adoption agency, we are not registered, we are not licensed, and we are not professional counselors.
Click here to get an adoption or IVF loan!

© All rights reserved CHRISTIAN ADOPTION