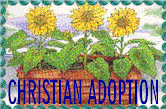 ---
KRISSY
Written by Krissy.
Names have been changed to protect privacy.
---
(Krissy shares her thoughts with her chosen Christian Adoption couple.)
Dear Tom & Heather,
I've been thinking of words to say, how to say them or if I should say them at all. I really feel that God wanted me to give Samuel to you because of the peace I have in my heart.
At first I struggled and asked God, "Why? Why me?"
But then God said, "Krissy everything is going to be okay, just lay it at the cross and I will take care of it!"
Recently, my mom came to me and said that the Crisis Pregnancy Center had someone they wanted me to counsel with about adoption. At first I was reluctant but then I figured--what a good time to give my testimony! The girl was pregnant with a bi-racial baby and her mom supports adoption. I was able to share my experience with her and talk about you too!
Tom and Heather, I thank God every day for you. There aren't 2 more wonderful people in this world! You are awesome for the letters and pictures you send. The letters make me feel like I'm right there with you, and it's wonderful to know that Samuel is in good hands. I love you both so much. Please keep the things we send to you for Samuel. Everything we send for him is from our hearts. Sometimes when I look at the pictures of Samuel, I want to reach out and hold him in my arms. I tear up and I miss him. But you have shown me your love for him and I know he's receiving everything he needs and more. I look forward to your updates because I can feel the love in your family and I know Samuel is safe. I know in my heart that God sent me to make a Christian Adoption choice. God also led you to seek a Christian Adoption! He meant for us to meet each other. I love you both so much!
Thank you for all that you do to love and care for Samuel--I know he's okay.
Much Love,
Krissy
(Tom & Heather have been blessed with 2 children through Christian Adoption!)
---
For more information please read Birth Grandmother Gayle.*
We encourage you to follow God's loving guidance.
---
Return to: Birthparents Index

Go to: Web Site Index
A Christian ministry helping birth parents & Christian couples for over 12 years!
1.800.277.7006 620.251.4405 adoption@christianadoption.com
Deborah S. Hill P.O. Box 243 Coffeyville, KS 67337
---
We are not an adoption agency, we are not registered, we are not licensed, and we are not professional counselors.
Click here to get an adoption or IVF loan!

© All rights reserved CHRISTIAN ADOPTION