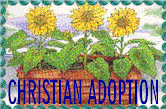 ---
JASMINE
Written by Jasmine.
Names have been changed to protect privacy.
---
2004
Dear Christian Adoption,
Iíd like to express my gratitude to the founders of this web site and ministry.
My name is Jasmine and I'm a birth mother who relinquished my daughter to a Christian Adoption couple over 5 years ago. Since then, this is the 1st Christian Adoption outreach Iíve come across that supports, rather than condemns the very difficult choice that women like me face.
Too many times I heard people state their condemning opinion: "If God gives you a gift, you don't give it away." Oh, how that tore at my heart, because I loved my baby and I only wanted her to have God's best blessings. I thank God for His undeniable hand and guidance in my life during that challenging time. Because of Him and because He made His will crystal clear to me, Iíve never gone through the agony of regret. The harsh comments and opinions of those around me did not sway my conviction. Iíve never worried or feared for the well-being of my child.
I know that our Almighty God; our loving Heavenly Father has her in His sights.
Thank you for the encouragement that Christian Adoption provides to women like me.
May God bless your efforts, this ministry, and every Christian Adoption.
In His Care,
Jasmine
(Ron & Christina are joyfully raising Jasmine's daughter through Christian Adoption!)
---
For more information please read Christina.*
We encourage you to follow God's loving guidance.
---
Return to: Birthparents Index

Go to: Web Site Index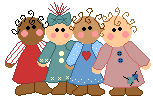 Return to: Home Index
---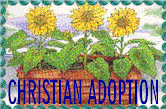 A Christian ministry helping birth parents & Christian couples for over 12 years!
1.800.277.7006 620.251.4405 adoption@christianadoption.com
Deborah S. Hill P.O. Box 243 Coffeyville, KS 67337
---
We are not an adoption agency, we are not registered, we are not licensed, and we are not professional counselors.
Click here to get an adoption or IVF loan!

© All rights reserved CHRISTIAN ADOPTION