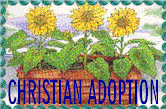 ---
WHO GAINS WHAT? WHAT'S THE PROFIT?
Written by Deborah.
---
Christian Adoption represents Christian couples that endeavor to imitate our Lord Jesus Christ. Although we are born again ones that live in this world, we are not of this world. However, we do live here and the ways of the world are greedy of gain. The adoption arena is not exempt from the sin of greed.
As birth parents it is prudent for you to consider "who gains what" by representing you and/or helping you in the adoption placement process.
I shudder recalling the rude question posed to me by a birth father, "What kind of breeding fee can I expect to be paid?"
I responded, "You cannot expect to be paid any kind of fee, but what you can expect is a stable, secure Christian home for an unplanned pregnancy." That answer ended our conversation abruptly.
Birth parents may want more than what is legal, ethical or morally right. Adoption agencies, attorneys, facilitators, and others may assist adoption placements with questionable integrity. There are many unscrupulous representatives in the adoption arena that seek to profit from an unexpected pregnancy.
Perhaps you should consider these questions when working with anyone in your placement process.
What does this agency, attorney or person gain if I work with them?
How much additionally gain will they receive when I relinquish my rights?
Are they promising me funds, transportation and benefits that may not be legal?
Have I investigated them by contacting several (6-8) of their references?
Are they looking for quota numbers of placements?
Am I just another statistic for their business?
How do I rate their honesty and integrity?
Do I believe what they tell me or can I trust them?
What is their reputation?
Am I treated with respect and courtesy?
Do they represent adoptive couples that are in harmony with my beliefs and/or my goals for my child?
Do they offer me counseling, encouragement and help?
Are they in alignment with the principles of God's Word?
Can I request prayer support and assistance from them?
As Christians it is prudent for us to obey God's Word and to follow His guidance. There is immediate gain as we obey God's guidance and there is long term profit. The vision of Christian Adoption has great gain for the kingdom of God.
WE PRAY FOR CHILDREN TO BE PLACED INTO SECURE, STABLE CHRISTIAN HOMES, WHERE GOD'S WORD IS TAUGHT FROM GENERATION TO GENERATION.
Christian Adoption works heartily unto the Lord for an eternal gain.
Our long term goal is that God's Word lives from generation to generation.
But godliness with contentment is great gain. I Timothy 6:6
---
For more information please read Obey His voice.
We encourage you to follow God's loving guidance.
---
Return to: Birthparents Index

Go to: Web Site Index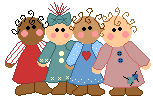 Return to: Home Index
---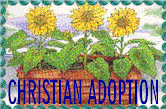 A Christian ministry helping birth parents & Christian couples for over 12 years!

1.800.277.7006 620.251.4405 adoption@christianadoption.com

Deborah S. Hill P.O. Box 243 Coffeyville, KS 67337
---
We are not an adoption agency, we are not registered, we are not licensed, and we are not professional counselors.
Click here to get an adoption or IVF loan!

© All rights reserved CHRISTIAN ADOPTION