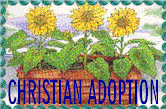 ---
CHOICES
Written by Deborah & a Christian Adoption mom.
---
We thank God for birthmoms!
Many of us in Christian Adoption cannot bear children. We merely dream about the experience of pregnancy. As adoptive mothers, we thank God for birthmoms that make LIFE choices for their baby. We also thank God for birthmoms that choose adoption for their child. Without such committed birthmoms, we wouldn't become mothers.
We thank God for birthmoms!
...before choir practice tonight, we were told us about a woman with an abortion appointment tomorrow. She has a 10 year-old daughter, no money, and will not consider the option of adoption. A counselor spent an hour with her trying to persuade her to make a LIFE choice for her baby and to consider the option of adoption. The woman didn't change her mind. Waterfalls of deep sadness washed over me. If only I could've shown her our 2 adopted children--2 gifts from God, because 2 birthmoms both made LIFE choices. I am frustrated to hear on the news, talk from neighbors, and read in the paper the huge loss of life because of selfish choices. If only birthmoms knew how much we adoptive couples need birthmoms to make LIFE choices and to also choose adoption.
We need birthmoms.
I thank God for all the children that have blessed adoptive couples. I thank God for the joy of raising children in the nurture and admonition of the Lord. I thank God for Christian Adoption. His Word gives us peace and purpose.
We need God's peace.
---
For more information please read Christian Adoption Statistics.
We encourage you to follow God's loving guidance.
---
Return to: Birthparents Index

Go to: Web Site Index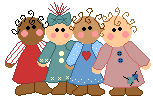 Return to: Home Index
---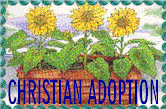 A Christian ministry helping birth parents & Christian couples for over 12 years!
1.800.277.7006 620.251.4405 adoption@christianadoption.com
Deborah S. Hill P.O. Box 243 Coffeyville, KS 67337
---
We are not an adoption agency, we are not registered, we are not licensed, and we are not professional counselors.
Click here to get an adoption or IVF loan!

© All rights reserved CHRISTIAN ADOPTION