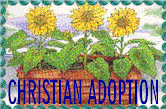 ---
CARREN
Written by Carren.
Names have been changed to protect privacy.
---
(Carren wrote this in response to a birthmother that chose Christian Adoption.)
Dear Holly,
I can only imagine the feelings you're sorting through. I encourage you to remain committed to your adoption plan. Children need to grow up in a home that can provide all they need to thrive. God loves you. He stands firmly behind your decision. He will heal your heart from the hurtful words that others so carelessly inflict upon you. Be sure to look to Him in all you do...even the small stuff.
We are a Christian Adoption couple longing to become parents. By God's grace and the loving sacrifice of a young mother like yourself, our dreams will come true. We pray for the opportunity to raise a child in the nurture and admonition of the Lord. We're so thankful for birthmothers that consider and then choose adoption. Though we may not meet on this side of heaven, I thank you for the gift you're giving to another Christian Adoption couple.
We're praying for you and for our special birthmother, who is due in 4+ weeks. We are incredibly honored to have been chosen by a birthmother to adopt her child. She told us that she wants the very best for her baby and she recognizes her current limitations. Our baby, her baby, will be loved and cherished. We thank God for His gifts to us: birthmothers that choose adoption, our first born child, Christian Adoption, and the joy of ministering to others.
Love & blessings coming your way!
Carren
(Dennis & Carren were blessed by their special birthmother, when they adopted baby John!)
---
For more information please read Birth Grandmother Lena.*
We encourage you to follow God's loving guidance.
---
Return to: Birthparents Index

Go to: Web Site Index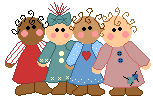 Return to: Home Index
---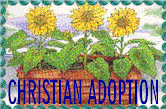 A Christian ministry helping birth parents & Christian couples for over 12 years!
1.800.277.7006 620.251.4405 adoption@christianadoption.com
Deborah S. Hill P.O. Box 243 Coffeyville, KS 67337
---
We are not an adoption agency, we are not registered, we are not licensed, and we are not professional counselors.
Click here to get an adoption or IVF loan!

© All rights reserved CHRISTIAN ADOPTION