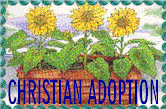 ---
CAROLYN
Written by Carolyn; paraphrased by Deborah.
Names have been changed to protect privacy.
---
12.14.08
Dear Tim & Kathy,
...because of you Iíve learned to trust in God more, no matter what happens.
Iíve never met a family that cares so much about the people around them.
Iím glad that God led me to find you through Christian Adoption.
I found you, even though it was through a pregnancy.
You're the exact family I needed to find.
Youíre the encouragement I needed to keep moving forward everyday.
I needed to learn to look up and to pray again.
Youíve helped me more then youíll ever know.
I can't thank you enough.
I love you.
Thank you,
Carolyn
(Tim & Kathy were thrilled to become parents to baby Esther through Christian Adoption!)
---
For more information please read Kathy.
We encourage you to follow God's loving guidance.
---
Return to: Birth Parents Index

Go to: Website Index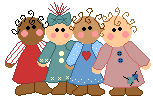 Return to: Home Index
---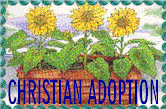 A Christian ministry helping birth parents & Christian couples for over 14 years!
1.800.277.7006 620.251.4405 adoption@christianadoption.com
Deborah S. Niles P.O. Box 243 Coffeyville, KS 67337
---
We are not an adoption agency, we are not registered, we are not licensed, and we are not professional counselors.
Click here to get an adoption or IVF loan!

© All rights reserved CHRISTIAN ADOPTION