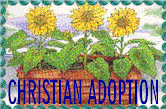 ---
BECCA-2
Written by Becca.
Names have been changed to protect privacy.
---
Dear Deborah,
There were a number of people, even in my very supportive church, who tried to discourage me from placing Micah for adoption. So many people offered to help with finances, babysitting, baby clothes, etc. But once God showed me His mighty plan, I never looked back. I have been blessed by following His guidance and for trusting Him with my child.
Today, because of Him, my family has expanded! I have a healthy son--who lives with the parents God chose for him and they have become members of my family. My parents consider all of us family, and we treat one another (as we should) as brothers and sisters in Christ.
In Christian Adoption, we need to be aware of those that would try to deceive us from following God's guidance. We need to pray that pregnant women will seek God's will.
I understand that adoption isn't for everyone, but I also believe that abortion isn't for anyone. Sometimes God sends children into homes through adoption instead of birth.
Let us pray for His will to be done.
In His love,
Becca
---
For more information please read Becca.*
We encourage you to follow God's loving guidance.
---
Return to: Birthparents Index

Go to: Web Site Index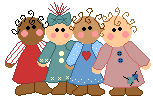 Return to: Home Index
---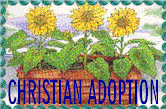 A Christian ministry helping birth parents & Christian couples for over 12 years!
1.800.277.7006 620.251.4405 adoption@christianadoption.com
Deborah S. Hill P.O. Box 243 Coffeyville, KS 67337
---
We are not an adoption agency, we are not registered, we are not licensed, and we are not professional counselors.
Click here to get an adoption or IVF loan!

© All rights reserved CHRISTIAN ADOPTION