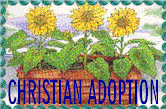 ---
BECCA
Written by Becca.
Names have been changed to protect privacy.
---
Dear Deborah,
Tonight is the first chance I've had to check my email since I got married! It was awesome to find 62 messages from Christian Adoption! Thank you! As I reviewed each email, I was reminded of my heartfelt connection to Christian Adoption. I prayed for the children in need of 2 loving, Christian parents. I prayed for the adoptive couples who pray for a small voice to call them Mama or Daddy. I prayed for other birthmothers, like me, that are seeking God's guidance for their child's future. There's so much I'd like to say to you, but I don't know how to express it. God formed my baby within me that became Lil' Isaiah. I know beyond any doubt, that God directed me to place him with Matt & Brianna. I will pray for the work of the ministry and for everyone associated with Christian Adoption!
IN HIS LOVE<><
Becca
About a month later...
Dear Deborah,
The Lord wants me to pray more and more. I believe in what Christian Adoption stands for because it's blessed by Him. God's Word says that children are a blessed inheritance from the Lord, and a purpose of marriage is to raise up godly offspring. Christian Adoption reinforces these truths: assuring that life will prevail and placing that life in a stable home where he/she will be brought up in "the nurture and admonition of the Lord." I desire to continue to support this ministry with prayer and as a birthmother resource, because I desire to support the Lord's work. He has so touched my life and speaks to my heart more all the time!
I remember an inspirational experience at the end of my pregnancy. It was National Right to Life Week and I was listening to the end of Focus on the Family on my way home from a Bible study. A woman shared a powerful testimony about having an abortion in high school and then years later became employed at Focus on the Family. She wasn't a believer, but she liked the job. However, she was afraid her co-workers would find out about her past and then lose her job. Eventually she accepted Christ, she admitted her past, and Focus on the Family provided Biblical counseling to her to help her deal with her former mistakes. As I finished listening to her heart, I saw a clear vision from the Lord of me working with young women in "crisis" pregnancies and adoptions! I saw it as clearly as when He showed me that Matt & Brianna were to be Isaiah's parents. And as clearly as when He showed me His grace the night I accepted Jesus Christ as my Savior. I felt such peace.
Now, over 2 years later, He has shown me so much more. I am ready to be a mother and a godly wife to my wonderful husband. I believe my primary ministry in life is to my family and He has led me through "deep waters" for a reason. My testimony is to encourage others, including birthmothers, to seek Him first!
Thank you for Christian Adoption and God bless you,
Becca
---
For more information please read Birth Grandmother Sheryl.*
We encourage you to follow God's loving guidance.
---
Return to: Birthparents Index

Go to: Web Site Index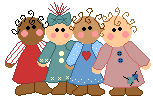 Return to: Home Index
---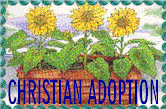 A Christian ministry helping birth parents & Christian couples for over 12 years!
1.800.277.7006 620.251.4405 adoption@christianadoption.com
Deborah S. Hill P.O. Box 243 Coffeyville, KS 67337
---
We are not an adoption agency, we are not registered, we are not licensed, and we are not professional counselors.
Click here to get an adoption or IVF loan!

© All rights reserved CHRISTIAN ADOPTION