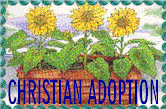 ---
MY BABY YOUR BABY
Written by Carrie.
Names have been changed to protect privacy.
---
(Birthmother Carrie placed her son with Alex & Charlene, when he was several months old.)
I was thinking about Christopher's 1st birthday and put pen to paper. I said a quick prayer thanking God for the time I had with him. I also thanked God for leading me to Christian Adoption so Alex & Charlene can raise my baby to know Him. This is for Alex & Charlene who missed so much, because I failed to heed God's instructions for my life and my baby.
---
My baby's eyes are darkest gray.
He was not here only yesterday.
My baby is one day old today.
My baby's eyes are deepest blue.
I do not yet know he is for you.
My baby is one week old today.
My baby's eyes are big and bright.
To see him each morning is pure delight.
My baby is one month old today.
Your baby's eyes are shining clearly.
You hold him close and love him dearly.
Your baby is one year old today.
---
For more information please read Encourage Yourself.*
We encourage you to follow God's loving guidance.
---
Return to: Birthparents Index

Go to: Web Site Index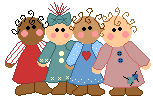 Return to: Home Index
---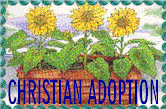 A Christian ministry helping birth parents & Christian couples for over 12 years!

1.800.277.7006 620.251.4405 adoption@christianadoption.com

Deborah S. Hill P.O. Box 243 Coffeyville, KS 67337
---
We are not an adoption agency, we are not registered, we are not licensed, and we are not professional counselors.
Click here to get an adoption or IVF loan!

© All rights reserved CHRISTIAN ADOPTION