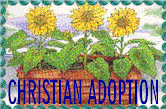 ---
ADOPTION
Designed by Melanie.
Names have been changed to protect privacy.
---
2008
(Bob & Melanie are thankful that their birthmother chose life for their Christian Adoption daughter!)
---
For more information please read Melanie-3.*
We encourage you to follow God's loving guidance.
---
Return to: Birthparents Index

Go to: Web Site Index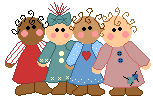 Return to: Home Index
---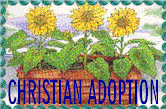 A Christian ministry helping birth parents & Christian couples for over 12 years!
1.800.277.7006 620.251.4405 adoption@christianadoption.com
Deborah S. Hill P.O. Box 243 Coffeyville, KS 67337
---
We are not an adoption agency, we are not registered, we are not licensed, and we are not professional counselors.
Click here to get an adoption or IVF loan!

© All rights reserved CHRISTIAN ADOPTION